I spotted the Toki Doki noodle bar last Wednesday as I was driving up Lord Edward Street towards Christ Church Cathedral (the nicer, brighter, friendlier and more accessible of the two Church of Ireland cathedrals in the city). Toki Doki is on the corner of Lord Edward Sreet and Christchurch Place, in a premises that has seen many different ventures disappear down the black hole of liquidation. I'd like to hope that Toki Doki does rather better. It's a brave venture.
Despite the best efforts of planners and city councillors to destroy the oldest part of Dublin with wide roads, anonymous office blocks, the Civic Office monstrosity, pathetic attempts at mirroring the grandeur of the cathedral, and permitting vacant sites to remain eyesores, this part of the city has some stunning attractions: Dublin Castle, the cathedral itself …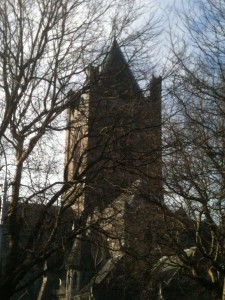 … Castle Street and, of course, City Hall. Lord Edward Street, by the way, was only built in the early part of the twentieth century. Previously one had to skirt around City Hall and wander up Castle Street to get to Burdocks.
So, Toki Doki then.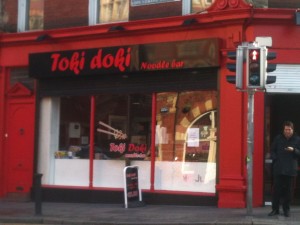 It's plain inside, but clean and bright. The serving counter is opposite the door and, against one window and one wall is a countertop with about 5 chairs. It's mainly a take-away place, really.
Here's the menu (click to enlarge in a new window):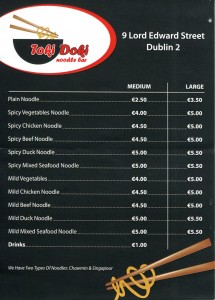 As you'll see, all the medium dishes and several of the large dishes are a fiver or less. That's pretty good, I think. There are a few other noodle bars in the city that I've come across and this one seems to have the broadest range of dishes for a fiver.
They also have a special deal going at the moment:
When they say 'Any Noodles' they mean any medium size portion of the noodle dishes on the menu. The drink is a soft drink (bottled water, coke and so on).
I went for the Spicy Beef Noodles and a bottle of water.
There's a choice of actual noodles (Singapore – thin ones, and Chow Mein [I think: they spell it Chawmin on the menu] – thicker ones).
The server popped the noodles (I chose the thin ones) into one of those American-style asian food take-away boxes* and spooned the spicy beef sauce on top.
Utensils and condiments are found nearby: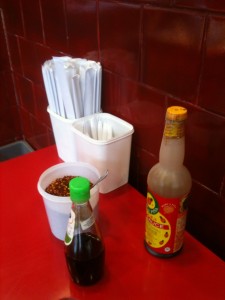 I chose some disposable chopsticks, gave the noodles a stir and tucked in.
My first reaction was that the noodles could have been hotter. The sauce was hot but I would imagine that if you took this back to your place of work, the food would be pretty cool by the time you got there. I do understand that keeping pre-cooked noodles hot is not easy as you run the risk of drying them out. The alternative is using oil and my arteries are grateful that these noodles are grease-free. Still …
My second reaction was: YUM! The sauce was gorgeous: it was a Thai inspired spicy sauce with a full coconut flavour, a hint of lemongrass and a good spicy heat that didn't overpower, or even dominate, but crept up on you, in a good way. The beef element was minimal both in size and in quantity but that didn't really take away from my enjoyment of my lunch. The noodles were nicely cooked and the dish was pretty filling. So filling, in fact, that I'm glad I opted for the medium deal rather than a large portion.
The man behind the counter said that Toki Doki had been open for about two months. It wasn't phenomenally busy. There were four people sitting at the counter when I arrived and possibly three or four people came in for take-away food in the fifteen or so minutes I was there. It's a little out of the way and in an area of significant food competition. Parliament Street is full of restaurants and there are quite a few at the upper end of Dame Street too. And of course Temple Bar isn't far away either. It's hard to see where Toki Doki is going to get sufficient customers from to survive.
Anyway. I enjoyed my lunch and I thought it was good value for a fiver. It's a place I'd return to if I'm in the area and I recommend that you try it too.
* I'm old enough to remember some of the early Chinese take-aways in Dublin and, in particular, a place called Luna which was beside the (long gone) Adelphi Cinema in Dun Laoghaire in the 1960s. In those days you got your take-away in a regular Tupperware container which you washed at home and brought back to the take-away the next day. For some reason that I can't quite understand, I  have loved those American-style containers ever since I first saw them on US television programmes years ago. They are here now and I'm happy.