Traffic in Dublin was appalling today. Please don't tell me this is the start of the annual Christmas snarl-up. Not sure that I could take another month of this.
Anyway, I had an urge to go back to Moore Street. When we were there for the first outing (Delhi O'Deli) I remember spotting a Chinese buffet a few doors up, with €4.99 signs stuck on the window.
So I battled my way down Henry Street, cut through the ILAC centre and emerged exactly opposite the place I was looking for. On the way, on Capel Street, just near the bridge I passed Soup Dragon, which does a Friday Fiver lunch and then I found Bonza Pies in the ILAC centre which sells various pies for under a fiver, both noted for future outings.
So …
… in I went, alone this time.
It doesn't seem like a place that would be noted for its atmosphere, or maybe I just caught it on the wrong day. It was 1.45pm and maybe it was a hive of babbling activity a little earlier, but now, it felt a bit like a library. There were about 8 patrons there, most dining alone and just finishing up their meals, and by the time I sat down with mine, only one was left, and he went shortly afterwards. Pretty quiet for a place that provides huge amounts of food for a fiver. Why?
Chinese Fast Food is a buffet, so I took my plate and checked out what was on offer. There were three big buffet catering units, each with eight trays of food.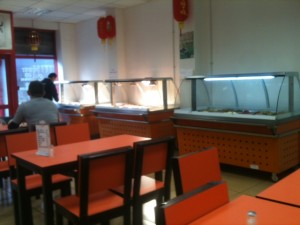 The one on the right has two types of fried rice, noodles, chips, cocktail sausages and a few other bits and pieces. The other ones contained a reasonably broad range of standard Chinese restaurant/ take-away food: pork, chicken, tofu and vegetables, cooked in a variety of ways some in standard looking/smelling sauces and others deep fried in batter.
I wasn't massively hungry but I wanted to try a few dishes, so I spooned out some rice and tried some cauliflower, some broccoli and a few different pork dishes (one rib and two other fried pork portions, one in sweet and sour sauce).
It wasn't hot. That's the first thing that crossed my mind. Not helped by being spooned on to a cold plate. The rice was nicely cooked, with egg, and it wasn't greasy. The vegetables were quite crisp, especially the broccoli and served in generic, hard to define but tasty sauces. I could taste salt or MSG but it wasn't the dominant flavour.
The rib was gorgeous, with a strong five spice flavour. Very tender and not fatty. The two other pork dishes were fine. The sweet and sour sauce was as I expected and the pork was a bit chewy, but not tough.
To be honest, I enjoyed this meal and it was only €4.99. The only other Chinese buffet I had experienced was the rather more famous one on the quays, where every dish seemed very oily and overcooked and from which one emerged smelling like a chipper. In contrast, there was no residue of grease on my plate after this meal. I had plenty of food and there was no limit on the amount of food one could pile on the reasonable sized plates.
The place itself is plain and pretty devoid of atmosphere…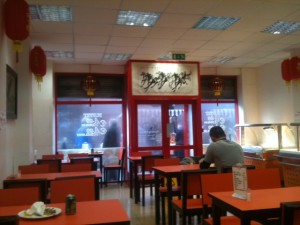 … which is a pity and I still find it odd that it was so empty. On my way back to the quays after lunch, near enough to 2.30pm I passed several other restaurants, none of them as empty as the one I had just left.
I'm not going to not recommend this place, if you know what I mean, but I'd suggest that if you are going to give it a try, go with a few other people and liven the place up.
(PS. I confess to being a bit nervous of buffet food in general. It's quite exposed to the atmosphere and, of course, to people, with our various unpleasantnesses. You're never quite sure how long the food been there and at what temperature. These are general concerns, you understand, not particular concerns about this buffet.)