Don't ever say that I don't bring you variety. I had it in mind to go Eastern Europe today and it was either the Balkan pie place in Moore Street Mall that I've been promising myself I'd try out, or this place.
North Earl Street – home to Boyers and Guineys – who would have thought I'd be trying out the second eatforafiver place here in, well, like, EVER?
Anyway, Polska Kuchina is located over this Polish food shop …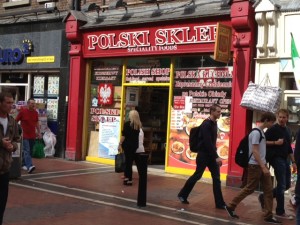 You might miss it but probably not if you can read Polish. I only saw it because I was on the look out a few months ago. The window …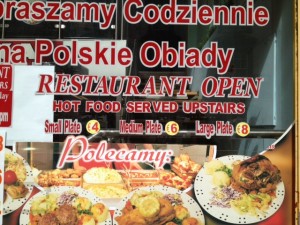 … is a tad overcrowded with words but you'll see at the bottom there, photos of plates pretty crammed with food. And the offer of a 'Small Plate' for €4. Just the job.
I really wasn't sure what to expect but I went into the shop and headed up the stairs and was followed up by a woman in a cap and apron, who turned out to be Rima.
Here's Rima …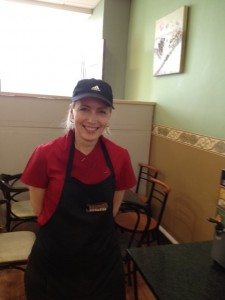 The 'Small Plate' is really a children's plate but she let me have one anyway. The next plate up – a 'Medium Plate' is only €6 anyway so, even if you're on a tight budget, you might stretch to that.
For your €4, you get a helping of mashed potato or pasta, one meat dish and one salad. On your Medium Plate you get two helpings of mash or pasta, two portions of meat and two salads. On the Large Plate you get three of everything and it's only €8.
The choice of meat dishes is enormous. Here they are …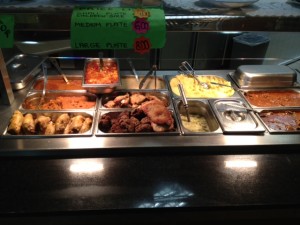 I'll see how many I can remember. There was a goulash, a pork liver stew, a Polish dish of cabbage and sausage, schnitzel, meatballs in sauce, fried chicken, stuffed chicken breast and I'm sure there were one or two others. The salads …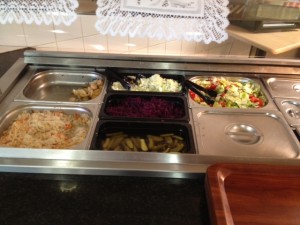 … were sauerkraut, beetroot, a mixed salad, gherkins and a coleslaw.
Rima said that her English wasn't great, but it sounded fine to me and she explained all the dishes to me with great patience. She looked at me doubtfully when I opted for the liver. But she gave me a spoonful anyway and also ladled a bit of the goulash on my plate, just to try it out. I went for the sauerkraut and mash too.
It's not a pretty restaurant. It's quite functional and the mix of styles of furniture gives it a rough and ready look. There's a half finished shoulder height partition in the middle of it which doesn't make a lot of sense. It wasn't busy, although Rima said their busiest times were at the weekend and I can imagine that to be the case.
So, here's my food, after a few forksfull (neither my spell-checker nor my offspring will like 'forksfull' but I'm sticking with it).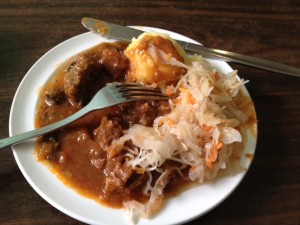 You'll see that the plate is, indeed quite small but that's a fair amount of food loaded on it. It was actually full before Rima put on the sauerkraut.
And the food? Good. The mash was real mash with a slight buttery taste to it and it did its job of soaking up the sauces. The liver stew was OK. Stewing liver makes it a little hard, especially if it's then kept in a bain-marie for a while. I prefer my liver a little tenderer but, hey, whatever – it was grand. The goulash was GORGEOUS. The beef was quite tender and the sauce was unctuous (thanks Richard for the spelling correction) – rich, thick and silky smooth, with a hint of paprika. The sauerkraut, I suspect, came from a jar. It's vinegar sharpness did the job of counter-balancing the rich sauces but it was perhaps a little too sharp (for my taste, anyway).
The plate was small but the food was filling and it was a good amount for lunch: extremely good value for €4. The big plates, by the way, are huge and I can't image being able to put away three portions of everything although I wouldn't mind having a go.
I wish the restaurant was a little more inviting. I'm sure a lot of people pass it and either don't notice it's there or feel a little intimidated by it. Unless I was doing this blog, I'm not sure I would have gone in. I think it's great value though and I'd love to see more people sampling the rather good food on offer.
€4. The proof …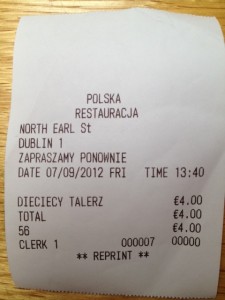 I'd say give it a shot.